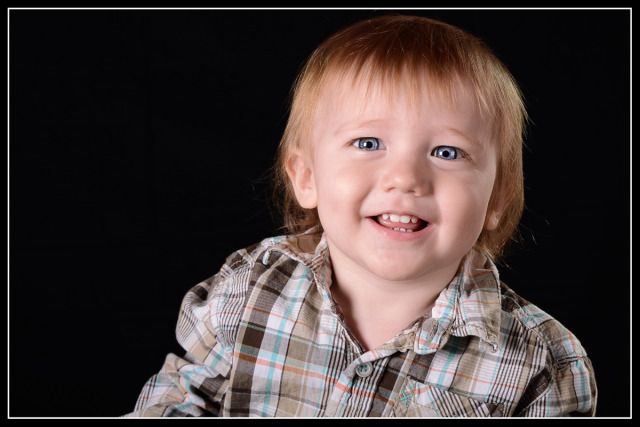 When it comes to baby portraits, getting good pictures is like taking candy from a baby, right?  But — is this really true? Some baby sessions are easy. Others…not so much. Keeping baby awake, attentive, and happy can be challenging. Thus, we offer a two-part post on the basics of baby portraits! In Part One, we'll discuss preparations, posing, props, and equipment. Later, you can check back for more on expressions and editing.
Preparations
When booking a baby shoot, I find it's wise to ask Mom and Dad exactly what they're envisioning. Often, parents have their own vision of the "classic" baby picture in mind, and it's in your best interest to understand their interpretation of that image.
Also, see if they want pictures of Baby in more than one outfit. If time is a concern, suggest they stick to one outfit, or a single outfit plus "naked baby" pictures. Some babies cry during outfit changes. To avoid shots of a red-faced infant, you'll need to schedule time for tear-drying, or just keep things simple.
Lastly, remind Mom and Dad to be mindful of scheduling around feedings and naps. Sessions run smoother when Baby is well-fed and alert (unless Mom and Dad are looking exclusively for "sleeping baby" images — in which case, as long as Baby is handled gently, naptime may be the perfect time).
Posing, Props and Equipment 
What do you need on hand for a Baby shoot, besides your studio basics?  For "naked baby" or "diaper" images (lots of parents want these pictures), be prepared with a space heater or a hair dryer to keep Baby warm.
You'll also want a noise-making toy to lure Baby's eyes to the camera. And, to keep your hands free for grabbing Baby's attention, you may want to set up a tripod and shutter release. This way, you can lean close to engage Baby without having to bounce back to the camera.
Once prepared with these items, you'll want to consider posing. For younger infants, parents may want to see Baby lying on his or her tummy, head propped on the fists or lying against Baby's arms. But be mindful of Baby's capabilities. If Baby can't lift his or her head, don't push to the point of tears. If Mom and Dad are set on this pose, come back to it at the end. In the meantime, capture other cute shots. With proper encouragement, Mom and Dad will often abandon unrealistic visions, once assured you've got other adorable pictures.
In most cases, Mom and Dad are tracking Baby's growth and abilities. If Baby just learned to sit up, focus on sitting poses. Likewise, if Baby can stand with support, you may need a posing block, small chair, wooden chest, or other sturdy item to show off Baby's feat. Which brings me to my last point: props. Stuffed animals, flowers, blocks, and birthday cakes can enhance an image, particularly if Baby is restless or inattentive. Parents will  like these images more if they bring sentimental props from home. So, try capturing candid shots of Baby engrossed in these props.
That wraps up Part One. Be sure to check back for more information on facial expressions and editing tips!