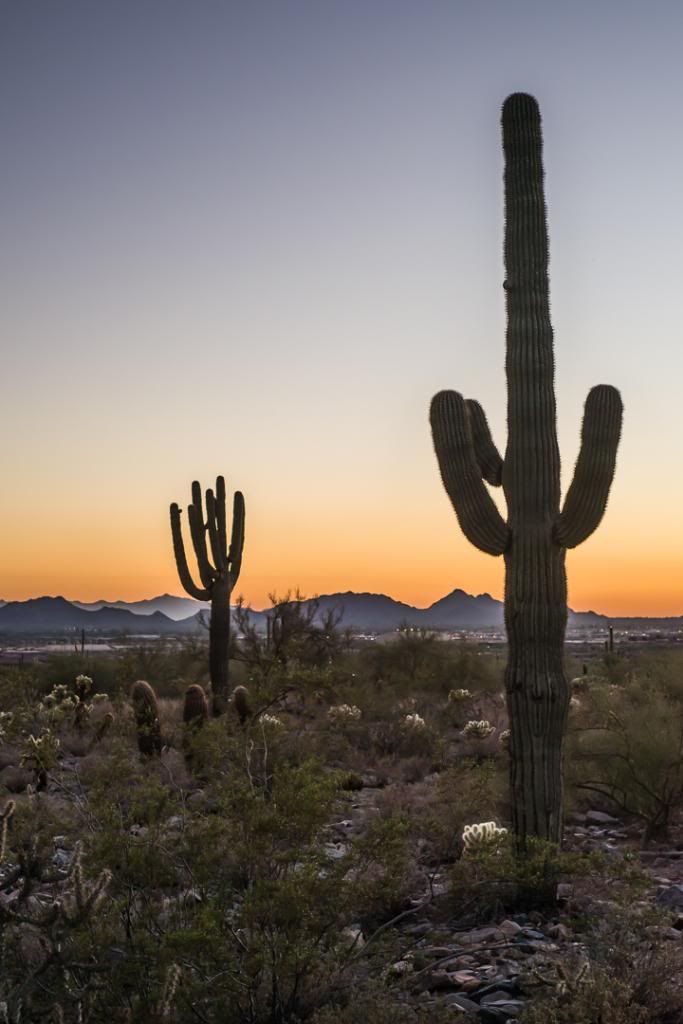 Hey, folks!  I was recently presented with the opportunity to explore the desert Southwest in Arizona.  I thought this would be a great chance to play with Nikon's newest (and more affordable) full frame DSLR, the D600.  Below is a list of the gear I used to capture the images you'll find in the gallery at the end.  If you'd like a closer look at the gear, you will find the names are actually links to the products on our website!  Just click to find out more.
After some rather lengthy and heated internal debate with my selves, I decided to bring just 5 lenses and 1 flash along to use with my new D600.  I brought 4 prime lenses.  For wide-angle I selected the 24mm f/2.8.  The 50mm f/1.8 served as my normal lens.  I grabbed the 85mm f/1.8 for telephoto, and the old school 55mm micro-nikkor for detail shots.  Also packed, but very rarely used, was the 80-200mm f/2.8 and an SB-900 speedlight.  Call me crazy, but I still kinda prefer the 80-200 over the 70-200VR, because it happens to be a tic smaller.
Since I took mostly prime or fixed focal length lenses instead of zoomers, it was important for me to find a way to get really quick access to the gear.  A big bag was pretty much out of the question, because I was unsure how far we would be trekking.  The last thing I wanted was a bunch of unnecessary weight on my back. I'm just a skinny guy, not a pack mule.  Thus I elected to run with a strong, maneuverable strap and belt accessories.  The Carry Speed Slim MarkII strap proved indispensable.  It allows you to tuck the camera around your hip and out of the way, but can be pulled up to shooting position without causing any "strap burn" from dragging it across your shoulder.  The camera moves independently from the strap on a guide of sorts.  It's brilliant!  Best strap I've ever used. I prefer it even to the similar Black Rapid systems.  I did modify it with a Manfrotto quick release plate system, as I do almost all my accessories, to speed up the process of moving it from strap to pod to bracket, etc.  For toting my glass, I put two primes together with a double rear lens cap and shoved them in a simple lens pouch hooked to my belt.  Another body (or, in my case, the 80-200) could be hooked onto a Spider Rig.  Again, I used the Manfrotto plate system on my other hip.  For stabilization, I brought a super light-weight Tamrac ZipShot tripod which I was able to attach to my belt loops using the nylon stretchy strap jobbies that hold it together when collapsed.
Here is a picture of my initial desert rig: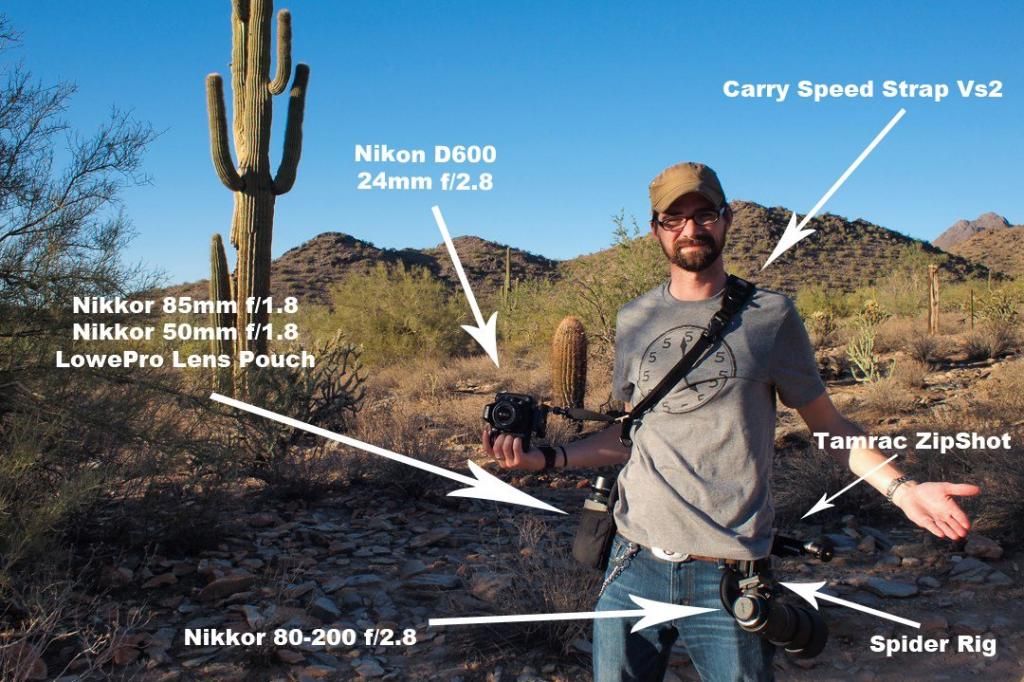 After the first trip out, I soon realized that the 80-200 was not worth bringing.  I was concentrating on scenic and there wasn't very much active wildlife.  I think I saw a skink once, could have been a shadow.   The extended telephoto was just pulling my pants down.  Then I discovered a neat trick with the D600.  On the occasions where I needed a little more "zoom" than my trusty 85mm could provide, I just switched into DX crop mode by holding the function button and spinning a dial.  This instantly gave me that extra little reach (127.5mm equivalent) while still producing a 10MP image (like a D200).  This trick made me consider why I had continued to lug around the 50mm, too.  I could have done the same thing with the 24mm.  Needless to say, the bigger 80-200mm remained in the trunk for much of the rest of the trip.
My impressions of the D600:
I simply love this camera.  Yes, it is not as durable overall as the D800, but I never once felt like it was going to break as I knocked it around.  In fact, I was really, truly impressed by how light-weight it felt!  I'm used to big cameras with big grips and big glass bogging me down.  This was a refreshing change.  It's not as light as mirrorless, but that huge optical viewfinder with 100% coverage was awesome to use under the unforgiving sun.
Yes, its flash sync is slower than its major competition.  But for travel and scenic photography, who the heck cares?  I did pack the SB-900, but with the stellar high ISO performance of the D600, the flash never made it out of the suitcase.  In fact, the tripod got very little use.  I was never afraid to jump up to 6400 ISO and hand-hold this well balanced, well built machine.  Noise was minimal at best and easily removed in Lightroom.  Write speeds can be slow if you are not using the right memory cards.  Remember, all cards are not created equal. Make sure you get a fast enough one!  Class 10 or better.  With big mirrors comes big dust, so be prepared!  If you're swapping glass in the desert, bring a
hurricane blower
.
So I'm going to go out on a limb here and just say it . . .
I've owned over 120 cameras thus far in my short time on this rock.  Amongst all of the digitals, I believe the D600 is the BEST camera in terms of overall image quality, without question!
As for shooting in the desert:
1)  Keep hydrated.  Bring plenty of water.
2)  Bring good shoes.  I brought my Dr. Marten's Johns.  Rugged leather with awesome soles, but STILL had a thorn get through!
3)  Don't carry too much gear.  Everything in your camera closet does not belong in the desert. Stay light.
4)  Sunscreen.  Duh, it's the desert.
5)  Leave it as you found it.  The desert is beautiful just as it is.  Take only memories and images, and leave no trace for the next folk.
Cheers,
Paul