So Nikon has a new entry level digital slr, and it looks like it's gonna be another winner. The D3200 is boasting a 24.2 megapixel sensor paired with the Expeed 3 imaging processor (same as D4). This kind of resolution will allow us to take some pretty big liberties when we crop in on our images. Cropping can be a useful tool for beginning photographers as they wrap their brain around composition. Having this much data to start with allows us to "recompose" via crop much more extensively without the fear of having our images fall apart.
Check out this video overview of the unit and its functionality:
As for the basic specs on the D3200, it is boasting a 24.2 MP DX CMOS sensor with a native ISO range up to 6400. The meter is using a 420 pixel RGB sensor that includes Nikon's exclusive Scene Recognition System. The build is small and light very much like the D3100 with only a few minor changes in the placement of a couple of buttons.
The D3200 retains the same main command dial sporting the easy exposure modes Auto, No Flash Auto, Portrait, Landscape, Kids, Sports, Macro, and Night Portrait. Also kept in the design is the GUIDE mode which coaches the user through finding the appropriate exposure mode while using example images.  The auto modes when used with "live view" also add scene recognition. The precision modes Program, Aperture Priority, Shutter Priority, and Manual are also present of course.
Active D-Lighting for contrast control and Picture Control add another level of fine tuning your images at the moment of capture. And then in the playback there is a retouch menu that offers a ton more tweaks including red-eye fixes, trimming, filter effects and a ton of creative effects. We even get the ability to edit our videos in camera now!
Video enhancements include a microphone input jack, and increase to 30fps at 1080 quality. We have the ability to shoot in slow motion and there is a full time servo autofocusing system, something Canon has yet to incorporate. We can record now for up to 20 minutes as well.
Additionally, the D3200 adds the ability to transmit wirelessly to smart devices like cell phones and tablets with the new WU-1a Wireless Mobile Adapter. You can zip your photos over to your phone on the fly to quickly upload to Facebook, blogs, etc. There is also the ability to use your mobile device as a remote shutter and take advantage of Live View through your phone! Android systems will be ready first with iOS too follow this year.
Oh and it comes in 2 colors.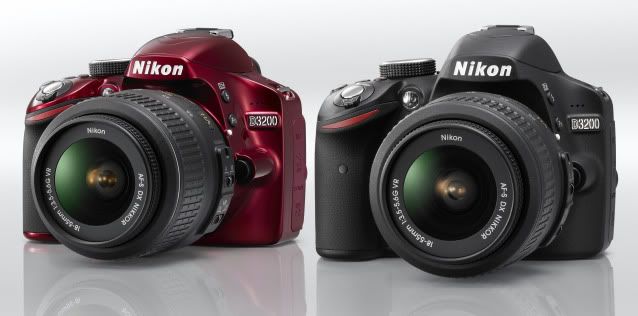 Order yours here!
Cheers,
Paul